About Europe - Horizon Europe
Horizon Europe
THE NEXT EU RESEARCH & INNOVATION INVESTMENT PROGRAMME (2021 – 2027)
Vision
A sustainable, fair and prosperous future for people and planet based on European values.
Tackling climate change (35 % budgetary target)
Helping to achieve Sustainable Development Goals
Boosting the Union's competitiveness and growth
Programe Structure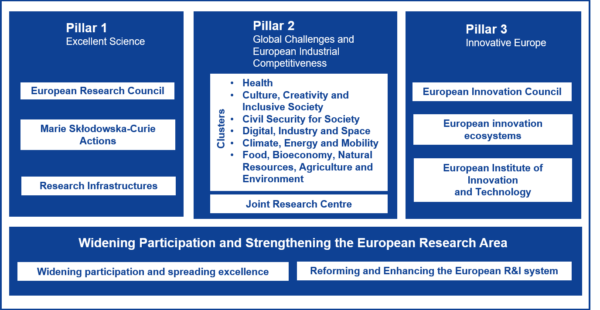 R&I Missions
Horizon Europe defines mission characteristics and elements of governance, and 5 missions areas. Specific missions will be programmed within the Global Challenges and European Industrial Competitiveness pillar (drawing on inputs from other pillars)
Mission Areas
- Adaptation to climate change, including societal transformation
- Cancer
- Healthy oceans, seas, coastal and inland waters
- Climate-neutral and smart cities
- Soil health and food
International Cooperation
Horizon Europe proposes extended openness to association
Third countries with good capacity in science, technology and innovation
Taking into account objective of driving economic growth in Europe through innovation
Budget
A budget explanation will be added soon.