Japanese Government finished gathering opinions regarding a revision of Export Trade Management Decree that removes South Korea from its 'white list' and is expected to make a follow-up measure after discussing with its Cabinet Council on the 2nd of August. South Korea will be removed from Japanese Government's white list 21 days after it formally proclaims the revision. There can be more difficulties in entire industries in South Korea if it is removed from the white list. This is why many point that out South Korean Government's efforts to secure competitive edge in materials and parts than ever.
[South Korean concerned about after-effect of being removed from Japanese Government's white list]
Japanese Government's Ministry of Economy, Trade and Industry (METI) started regulating exportation of polyimide (PI), photoresist, and hydrogen fluoride that are used as materials for production of semiconductors and displays on the 1st and it is expected to remove South Korea from its white list on the 2nd of August.
According to foreign media, Japanese Government is planning to proclaim Export Trade Management Decree that removes South Korea from its white list after going through its Cabinet Council on the 2nd. The decree will be enforced 21 days after proclamation. Once the decree is enforced, Japanese Government can regulate exportation of Japanese products as much as possible.
This can be a devastating blow to South Korea's manufacturing industry that brings in key materials and parts from Japan and exports finished products. According to METI's list of items that will be regulated once South Korea is removed from its white list, there are 1,100 items such as state-of-the-art materials, electronics, and navigation equipment that will be subjected to regulation.
While Japanese Government's current regulation only regulates three items, removal from its white list can impact other items such as weaponry, nuclear energy, chemical weaponry, biological weaponry, missile, propulsion system, electronic, sensor, and navigation equipment.
There is no guarantee that South Korea's major industries will not be affected from South Korea being removed from Japanese Government's white list. This will force South Korean Government to look back its efforts to localize key materials so that it can overcome trade deficit with Japan.
[Need for South Korea to localize key materials rises]
South Korea's trade deficit with Japan increased annually by 2.2% on average from 2001 to 2018. Rate of dependence on Japan for importation decreased from 28.1% in 2001 to 16.3% in 2018 and it reached the lowest value during the first half of this year at 15.4%.
However, there is still significant deficit. In 2018, South Korea imported $54.5 billion of products while it exported $30.6 billion of products. The amount of importation is over 10% of the amount of entire importation in 2018 at $535 billion. South Korea's importation from Japan primarily focuses on materials and parts. There is a high rate of South Korean businesses bringing in Japanese materials and parts to use them during manufacturing process.
When South Korean businesses make sales from producing finished products, foreign businesses that provided key materials and parts that go into finished products earn profits from such sales. This is also called 'cormorant economy'.
South Korea's effort to localize key materials and parts is sandwiched by Japanese Government pressuring South Korea with its regulation and Chinese Government's 'Made in China 2025'.
For example, Chinese Government is planning to invest $169 billion (200 trillion KRW) into semiconductor industry until 2025 and is looking to increase the degree of self-sufficiency from 15% to 70%. It is more important ever for South Korea to accelerate the process of localizing key materials and parts in order to strengthen competitive edge its manufacturing industry.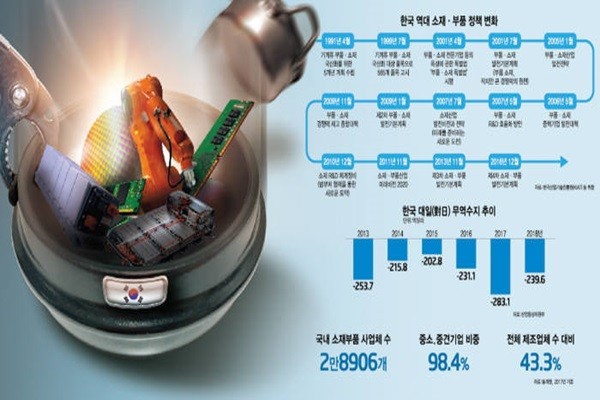 [South Korean Government to establish long-term plans and policies]
South Korean Government has been putting efforts into localizing materials and parts since 1991 in order to avoid a structure where South Korean manufacturing industry produces finished products by bringing in key materials and parts from Japan.
It has been increasing localization rate when it established 'Parts and Materials Industry Development Special Act' in 2001. In 2017, South Korea was ranked fourth in the world based on its market shares (8.66%) in exportation of electronic parts. It was also ranked fifth in exportation of transportation machines. Both of these feats are worth of close attention.
However, South Korea's problem is that it focuses on general parts. Competitions within global markets for general materials are becoming more intense as China is increasing production while markets for key materials are owned by few global businesses. In case of carbon fiber market, Toray, Toho, and Mitsubishi Rayon currently own 66% of global production. Although South Korea is arguably the top country in electronic industry, it imports significant amount of key materials such as PCB (Printed Circuit Board), laminated ceramic condenser, diode, and transistor from Japan.
Another task is for South Korea to avoid small constitution.
There are 28,906 materials and parts manufacturers in South Korea and they correspond to 43.3% of the number of entire manufacturing companies (66,758). 98.4% of 66,758 manufacturing companies are small and medium-sized businesses and they only account for 50% of entire production of materials, parts, and equipment. Out of 2,000 businesses selected by Forbes in 2017, 40 and 29 of them were American and Japanese businesses. Only 7 of them were South Korean businesses.
Experts point out that South Korean Government needs to take this opportunity to localize key materials and to secure various markets.
"Global market is based on a very complicated structure." said a representative for Korea Institute for Industrial Economics & Trade. "Key fundamental materials and parts are strategic assets for businesses and countries." The representative also added that development of key materials and parts does not happen overnight and that South Korean Government needs to establish medium and long-term policies to push for collaboration between major corporations and small companies, implement sizeable economy, and promote key materials and parts strategically.
Source : ETNEWS