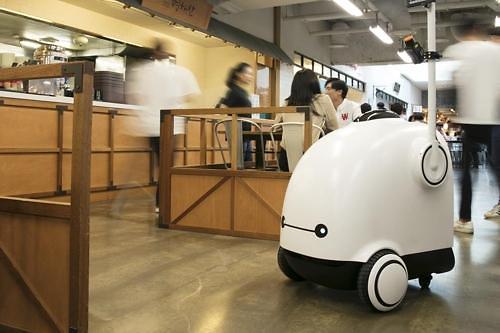 SEOUL --  A self-driving food delivery robot made its debut at a crowded South Korean restaurant this week before commercial production in a project that would eventually kick out human delivery drivers.
Woowa Brothers, the operator of the country's top food delivery service Baedal Minjok, said in a statement Friday that the testing of a delivery robot called "Dilly" began at a food court in the central city of Cheonan this week. The company hopes to commercialize the self-driving robot in three to five years.
"The customers are curious about the robot. They think the robot is very funny and cute," Sung Ho-kyung, a public relations manager at Woowa Brothers, told Aju news.
Dilly, which is about the size of a small refrigerator, is 83 centimeters (33 inches) tall, 77 cm long and 68 cm wide. It has a compartment to carry food with sensors detecting its whereabouts and obstacles.