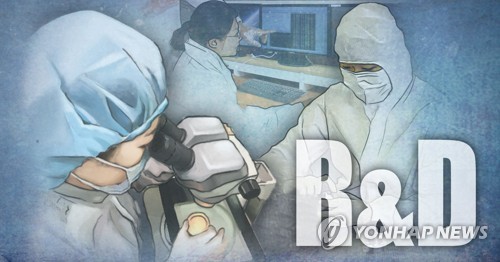 <Photo credit : Yonhap News>
SEOUL, June 26 (Yonhap) -- South Korea will spend 21.6 trillion won (US$18 billion) in state budget on research and development (R&D) in 2021, with emphasis placed on countering infectious diseases, the science ministry said Friday.
The earmarked sum represents a 9.7 percent increase from this year's budget of 19.7 trillion won to support 945 projects, the Ministry of Science and ICT said.
Of the total, 377.6 billion won will be spent to study treatments and vaccines for the novel coronavirus and build up Seoul's capability to respond to future pandemics.
The figure is more than double the 173.8 billion won set aside this year to cope with contagious illnesses and shows the country's commitment to fully backing local efforts to tackle COVID-19, the ministry said.
Some 2.46 trillion in state budget, up a sharp 45.6 percent from 2020, will be spent on the so-called Green New Deal, and an additional 2.15 trillion won will be used to assist bio health, future mobility and system semiconductors, according to the ministry.
The ministry said some 2.1 trillion won will be set aside to upgrade the country's industrial materials, components and equipment sectors, with a further 2.35 trillion won to facilitate basic research.
The ministry said the R&D spending plan will be forwarded to the finance ministry next week and then be sent to parliament in September for approval.