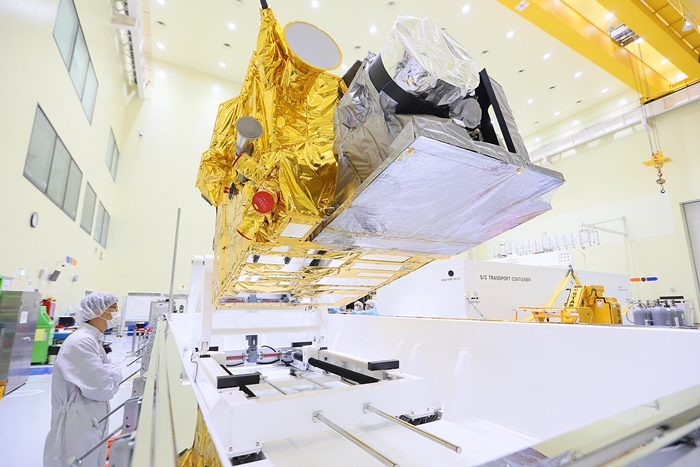 The Ministry of Science and ICT announced on Oct. 18 that Korea's two new satellites, the geostationary weather satellite Chollian-2A and the microsatellite Next Sat-1 will be moved to overseas space centers to be launched in November and December.
The Chollian-2A, which left the Korea Aerospace Research Institute (KARI) in Daejeon on Oct 16, will be arriving at the Guiana Space Center at Kourou in French Guiana on Oct. 18. It will go through a preparation process to be launched into space on Dec. 4, local time.
The satellite is expected to provide weather information starting in July 2019.
The Next Sat-1, an observation satellite, will leave Korea Advanced Institute of Science and Technology, also in Daejeon, on Oct. 18. It will arrive at Vandenberg Air Force Base in California on Oct. 21 and get ready to be sent into space on Nov. 19 (local time). The Next Sat-1 leaves Earth earlier than the Chollian-2A because of the shorter local preparation time.
The new Chollian-2A, weighing 3,500 kilograms, is loaded with improved weather observation gear compared to the previous Chollian-1, launched in 2010. It is able to send four-times clearer color images with spatial resolution of 0.5km, and with 18 times faster download speed (115Mbps) compared to the previous version. It is able to analyze various weather conditions on the Korean Peninsula such as dust wind and typhoons and send the information to earth for a more accurate weather forecast and better measures against climate change. It can also collect information about solar activity and geomagnetic storms.
The Next Sat-1, weighing 107 kilograms, is developed for space research and testing technologies. It can contribute to research on star birth and history by measuring cosmic rays and plasma and observing infrared light from stars. The satellite can also test space technologies.
"Through continued investment in satellites, Korea secured technical competitiveness by independently developing a 3.5-ton geostationary satellite platform and successfully standardizing, modularizing and miniaturizing satellites," said a ministry official.
SOURCE: KOREA.NET