Welcome
"What's new in Europe?"
KERC와 함께 유럽의 새로운 소식을 받아보세요
"What's new in Korea?"
Let KERC keep you up to date with the latest R&D trends and results in Korea
"A Bridgehead to enhance Korea-EU R&D Cooperation"
Once, Korea was a 'far and disparate' land to Europe according to the Journal of Hendrik Hamel, a Dutch sailor who spent thirteen years in Jeju Island(Korea) after a shipwreck in 1653.
Since then, however, we have witnessed considerable changes in status of both sides in the international society, which brought Korea and the EU(then, EEC) together to establish diplomatic tie in 1963. And in 2010, both sides agreed to see their r…
Read More
Mission, History and Achievements
Our Organization was established in November 2013, under the name of KIC-Europe as the first Research & Innovation Centre in Brussels to collect and distribute relevant information and to build up networks in research and innovation between Korea and the EU.
Due to the functions restructure in March 2017, our organization changed its name from KIC-Europe to KERC (Korea-EU Research Center) to focus on R&D collaboration and Policy development between Korea and the EU.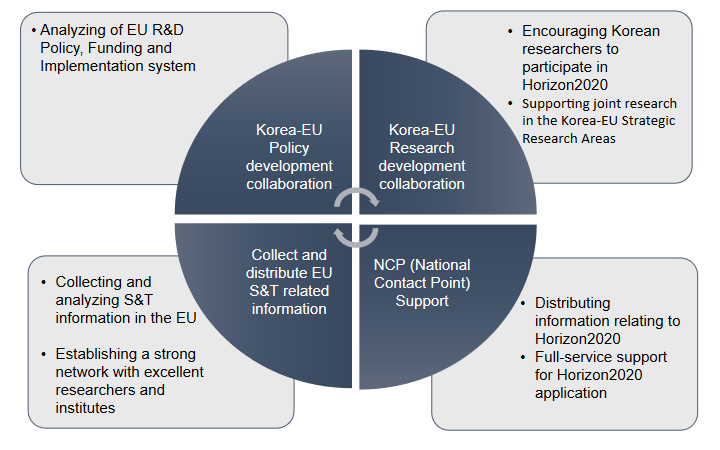 History
<!========= Cool Timeline PRO 2.7 =========>
About KERC Timeline
Main achievements
Match Making for R&D Building & approval of the R&D Consortium between Korea and EU for EU projects (H2020 4, Eureka 5, Eurostars 1)
H2020 (4)
(H2020 Joint Calls)EUK-01-2016: 5G – Next Generation Communication Networks
5G/ICT
France  CEA-LEIT
CEA-LEIT(France), ETRI/SKT/KT/Samsung (Korea), iMinds(Belgium) 외
'16.6.1.~'18.5.31.(2Y), 3600 M
(H2020 Joint Calls)EUK-03-2016: Federated Cloud resource brokerage for mobile cloud services
Cloud Computing/ICT
Greece NTUA
NTUA(Greece), CAS(Germany), CNR(Italy), ATOS(Spain), Amenesik(France), ETRI/Innogrid/KT/SNU(Korea)
'16.6.1.~'18.5.31.(2Y), 1800 M
H2020 IoT-01-2016 (Large Scale Pilot 5: Autonomous Vehicles in a Connected

Environment)

IoT/ICT
Belgium ERTICO
EU: ERTICO, Bosch, CEA, BMW, Peugeot, Continental, IBM Vedecom, TNO, VTT, NEC, Huawei etc.

KR: ETRI, Meta Build

'16.12.~'19. 12(3Y), EU: 25M
H2020-ICT-30-2017:

Photonic Integrated Circuit (PIC) Technology

parts and materials /

ICT

Spain CTTC
KR: ETRI

EU: CTTC, Politecnico of Milan, VERTILAS, Eindhoven University of Tech. Telefonica

'17.9.~'20.8(3Y),

EU: 89M
EUREKA (5)
(EUREKA)Environmental Sensing To Act for a Better quality of Life: Smart Health (ESTABLISH)
u-Health
EU: TNO

KR:

Visionscape

ETRI, SungSin University

TNO(NL), VTT(Finland), FhG(Germany), Tenalia, KPN(NL), ETRI(Korea), Siveco(Romania), Sirris(Belgium), CZ Technical University in Prague(CZ),

IPP(Portugal), Turkgen(Turkey)

'16.1.7.~'19.1.7.(3Y), 1500M
(EUREKA)Improving Offshore Petroleum Safety by Remote Monitoring of Worker Location and Biometrics(SafeRescue)
Smart &

Safe

Factory

Innovative Trauma Care Inc., Canada

KR: ETRI,  KAIST, Qbit

Innovative Trauma Care Inc.(Canada), Airbus(France), ETRI(Korea), Almende BV(Netherlands), Prodevelop(Spain), GOHM Elect.(Turkey) + 7 Org
'16.1.7.~'19.1.7.(3Y), 1500M
(EUREKA Network E!11150) Quantum GS Development
ICT/Space Exploration
France:Eutelsat.S.A

KR:ASAT

Eutelsat S.A. (France),ETRI (Korea), ASAT (Korea)
'17.1.~'19.12(3Y),

1500M

EUREKA Cluster(EURIPIDE) Laser Innovation for Flexible Electronics
Laser Innovation for Flexible Electronics
Amplitude Syst.mes (France)
FR: ALPhANOV

KR : DUKSAN, KIMM, Pusan University, PAL

'15.12.~'18.12.(3Y)

EU: 2.45M

EUREKA Cluster(ITEA3)

OPTimised Industrial IoT and Distributed Control Platform for Manufacturing and Material Handling (OPTIMUM)

IoT, Industry

4.0/ICT

German, IFAK
KR: ETRI, Handysoft

EU: German, Spain, Turkey, France, Sweden

'17.9.~'20.8.(3Y)

EU: 12.7 M€

KR: 0.4M/1.2M
EUROSTARS (1)
(Eurostars 2016) Smart home Security module
Home Security/ICT
LAP-Sik, Denmark
EU: LAP-Sik, DBI, DFM

KR: ETRI, GRIP

'17.7.1.~'20.6.31.(3Y)

EU:1M/3M

KR: 0.4M/1.2M
NCP (National Contact Point)
Overview
NCP (National Contact Point) is a government-driven programme to help Korean researchers' access to EC's research funding programme such as previously FP7 and currently Horizon2020, to provide the latest news and information related to R&D and relevant policy in the EU and to play a bridging role in building close networks between European and Korean researchers. NCP are experts in their relevant field.
Primary role
NCPs provide highly professional services by spreading awareness, giving specialist advice, and providing on-the-ground guidance, with the view to ensuring that the new programme becomes known and readily accessible to all potential applicants. The Republic of Korea, as a third country under Horizon 2020, supports not only Korean researchers, institutions, and enterprises who seek guidance for participation in the EU Horizon projects but also European counterparts interested in R&D collaboration with Korea.
Information & Distribution
Building Korean/EU's network
Exploring Korean and European researchers to build a close network
Supporting Korean researchers to join in the EU Consortium (Contact NCP)
Management of NCP Network
Supporting Korean researchers in planning/making a project proposal
Developing strategy of participation of Horizon2020 (Horizon2020 Practical Guideline)
Responsible for providing consulting services on project proposals and administration works (Contact NCP)
Proposal review and contract
Provide information & proposal review
Supporting research contract discussions
NCPs in KERC
With KERC serving as a platform to promote integrated Korea-EU R&D cooperation, KERC's NCPs provide information on EU R&D, EU policy trends, as well as expert advice in their field. (Contact NCP)
Latest News
52
Oct. 13th, 2020
51
Sep. 14th, 2020
50
Sep. 7th, 2020
49
Jul. 7th, 2020
48
Jul. 3rd, 2020
47
Jun. 30th, 2020
46
Jun. 30th, 2020
45
Mar. 19th, 2020
44
Feb. 25th, 2020
43
Dec. 10th, 2019
See More News
Events Calendar
Current & Upcoming Events