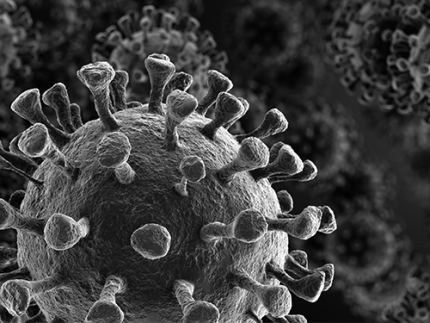 KAIST medical scientists and their colleagues confirmed that the type I interferon response plays a pivotal role in exacerbating inflammation in severe COVID-19 cases. Severe COVID-19 has been shown to be caused by a hyper-inflammatory response. Particularly, inflammatory cytokines secreted by classical monocytes and macrophages are believed to play a crucial role in the severe progression of COVID-19.
A new single-cell RNA sequencing analysis of more than 59,000 cells from three different patient cohorts provided a detailed look at patients' immune responses in severe cases of COVID-19. The results suggest that patients with severe cases of COVID-19 experience increased regulation of the type I interferon (IFN-I) inflammation-triggering pathway, a signature that the researchers also observed in patients hospitalized with severe cases of influenza.
Their findings suggest that anti-inflammatory treatment strategies for COVID-19 should also be aimed toward the IFN-I signaling pathway, in addition to targeting inflammatory molecules such as TNF, IL-1, and IL-6, which have been associated with COVID-19.
The research team under Professor Eui-Cheol Shin from the Graduate School of Medical Science and Engineering sequenced the RNA from a total of 59,572 blood cells obtained from four healthy donors, eight patients with mild or severe COVID-19, and five patients with severe influenza.
By comparison, patients with severe cases of influenza showed increased expression of various IFN-stimulated genes, but did not experience TNF/IL-1 responses as seen in COVID-19 patients. Unlike the flu cohort, patients in the severe COVID-19 cohort exhibited the IFN-I signature concurrently with TNF/IL-1-driven inflammation – a combination also not seen in patients with milder cases of COVID-19.
Their result, along with past mouse studies that highlight how the timing of IFN-I expression is critical to determining the outcome of SARS, support targeting IFN-I as a potential treatment strategy for severe COVID-19.
Professor Shin said, "This research provides insights for designing therapeutic options for COVID-19 by investigating very closely how the immune cells of COVDI-19 patients develop. We will continue to conduct research on novel therapeutic immune mechanisms and target therapeutic anti-inflammatory medication to improve the survival of severe COVID-19 patients."
This study, conducted in collaboration with Severance Hospital at Yonsei University, Asan Medical Center, and Chungbuk National University, was featured in Science Immunology on July 10. This work was funded by Samsung Science and Technology Foundation and SUHF Fellowship.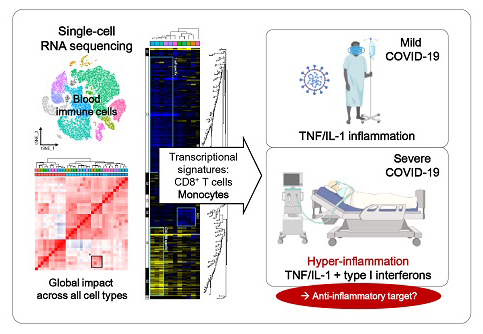 < Figure: Analysis of blood immune cells at a single-cell level has revealed a cytokine signature associated with the development of severe COVID-19. >