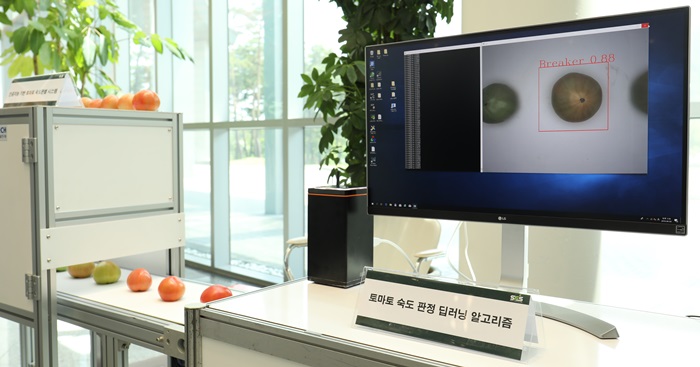 The Ministry of Science and ICT hosted its "technology exposition for convergence research on smart farm solutions" conference on June 4 to show off some of the major new technologies developed by the Smart Farm Solution Convergence Research Team since October 2015, technologies that will help farmers adapt to environmental changes.
A "smart farm" system uses some of the latest technologies, such as the Internet of Things (IoT), big data and artificial intelligence (AI), to automatically adjust the farming environment to provide the best conditions for the crops.
At the conference, some state-of-the-art agricultural machines were introduced. There was a smart watering system that measures the hydration level of each individual plant, an AI discriminator that checks the ripeness of each tomato and automatically controls the thermal curtain and lights that help to save energy and enhance yields.
"Our smart farm technology, customized for certain climates, could be sold in the future to overseas markets where farmers grow plants in the desert or in the tundra," said an official from the ministry.
See URL for details : http://www.korea.net/NewsFocus/Sci-Tech/view?articleId=159786&pageIndex=1
Source : Korea.net