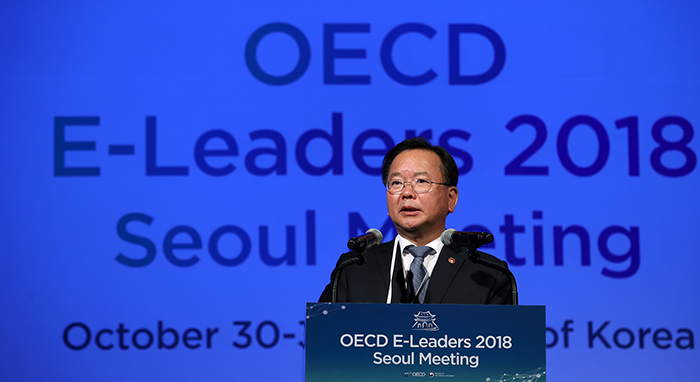 Leaders of e-government digitalization sectors from the Organization for Economic Cooperation and Development (OECD) member countries gathered in Seoul. They will discuss the future direction of digitalization and cooperation in the e-government sector at the OECD E-Leaders 2018 Seoul Meeting which is taking place Oct. 30 and 31.
The OECD E-Leaders meeting, which marks its eighth year, is an annual gathering where e-government leaders from OECD countries meet to discuss digitalization policies and strategies, and present the future direction of e-government in the world.
This year's meeting is being held for two days on the theme of "Digital Transformation: Exploring how emerging technologies meet the needs of a user-driven public sector."
The two-day gathering is attended by approximately 150 participants, including high-profile figures in the e-government or information sector of OECD member countries, European Commission Director-General for Informatics Getrud Ingestad, e-government sector officials from non-OECD countries, and e-government experts. They will share the latest trends of e-government in their home countries, case studies, including both success and failure, and exchanging information and research findings. The participants will also discuss the ongoing application of new technologies such as artificial intelligence (AI) and the Internet of Things (IoT), and talk about challenges in e-government systems of each of their countries.
At the opening ceremony Minister of the Interior and Safety Kim Boo Kyum emphasized the importance of the active use of new technologies in the public sector.
The minister praised the e-government outcome by saying that, "E-government boosted productivity and efficiency in the administration of the public sector, which upgraded the quality of life of the people."
"The use of new technologies, such as big data, IoT and the cloud system in the public sector heightened the transparency and fairness in administration, which helps expand the participation of the people," he explained.
Regarding the future tasks of e-government, Minister Kim mentioned the issues of compatibility in the information and communication sectors among governments, the standardization of data and the protection of personal information. The minister said that, "In order to overcome obstacles in digital transformation, cooperation among the digital leaders needs to be bolstered."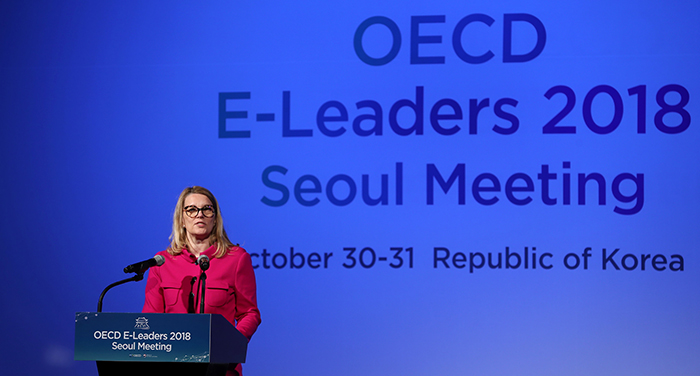 OECD Deputy Secretary-General Mari Kiviniemi also underscored the importance of embracing the new technologies. She said that "Governments should rapidly embrace changing new technologies and digital revolutions in the public sector otherwise they will be overwhelmed."
The OECD deputy secretary-general explained that citizens today have high access to information more than ever before; they can select and access information with smartphones.
"Opening the public data will boost people's access to information, and that will help the government win the public trust," she added.
SOURCE: KOREA.NET