Horizon Europe
Structure
Pillar 1
Pillar 2
Pillar 3
Horizontal Actions
Budget
Work Programme
Strategic Plan 2021-2024
EU Missions
Countries
프로그램 지원 가이드
Horizon Europe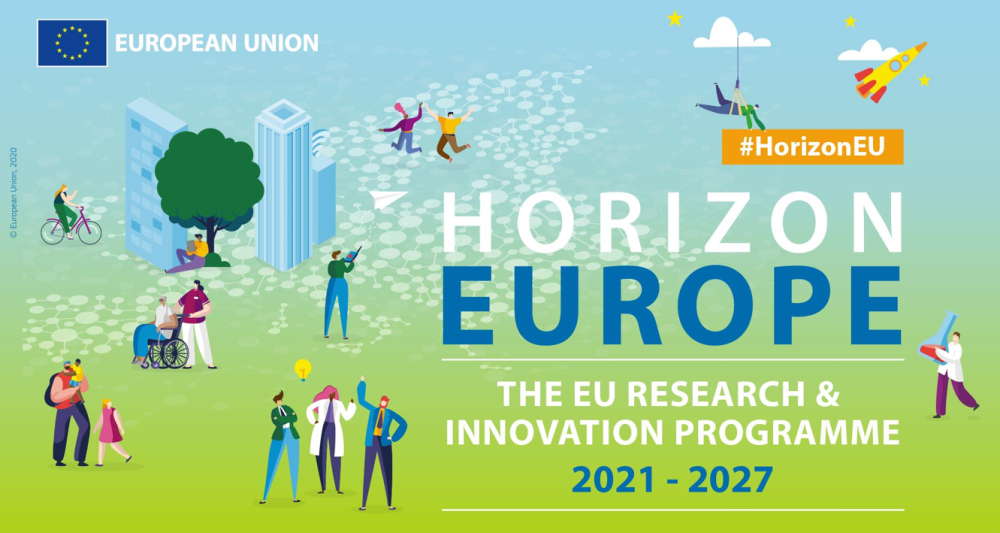 Horizon Europe : The EU Research & Innovation Programme 2021-2027
Horizon Europe is the EU's key funding programme for research and innovation with a budget of EUR95.5 billion. It tackles climate change, helps to achieve the UN's Sustainable Development Goals and boosts the EU's competitiveness and growth.
The programme facilitates collaboration and strengthens the impact of research and innovation in developing, supporting and implementing EU policies while tackling global challenges. It supports creating and better dispersing of excellent knowledge and technologies.
It creates jobs, fully engages the EU's talent pool, boosts economic growth, promotes industrial competitiveness and optimises investment impact within a strengthened European Research Area. Legal entities from the EU and associated countries can participate.
Structure
Horizon Europe Structure
---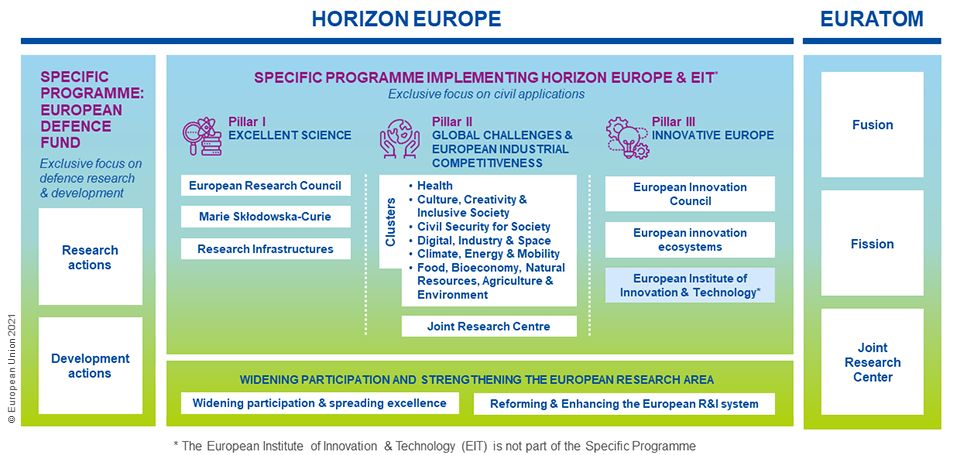 Horizon Europe consists of three pillars and horizontal actions.
---
Excellent Science aims to bring and keep science in Europe at the highest level. Also, the actions under this pillar contribute to making Europe an attractive location for the world's best researchers. Europe wants to attract and develop research talent and to provide access to the best research infrastructures.
Global Challenges and European Industrial Competitiveness focuses on the major challenges that the EU and the world are facing. These are listed in the Sustainable Development Goals (SDGs), among other things.
Innovative Europe focuses on innovations that strengthen the competitiveness of the European Union. 
To strengthen the European Research Area (ERA), Horizon Europe uses various instruments via the horizontal pillar Widening Participation and Strengthening the European Research Area. Examples of these instruments are Teaming, Twinning and European Cooperation in Science and Technology (COST).
European Defence Fund : Exclusive focus on defence research and development
 Euratom Research and Training Programme : Focus on nuclear fusion and fisson research and Training. 
Pillar 1
Pillar 1 : Excellent Science
---
European Research Council (ERC)
Funding frontier research designed and driven by the best researchers in Europe. The ERC grants are intended to fund excellent science and are open for researchers at different career stages. The program consists of 5 different grants : 
Starting
Consolidator
Advanced
Synergy
Proof of Concept
Marie Sklodowska-Curie Actions (MSCA)
The program funds individual fellowships and supports mobility of researchers internationally.
Research Infrastructure (RI)
Funding new world-class research infrastructures. The work programme supports research communities to conduct research and foster innovation in their field.
Pillar 2
Pillar 2 : Global Challenges and European Industrial Competitiveness
---
Health
Health throughout the life course
Non-communicable and rare diseases
Tools, technologies and digital solutions for health and care, including personalised medicine
Environmental and social health determinants
Infectious diseases, including poverty-related and neglected disease
Health care systems
2. Culture, Creativity & Society
Democracy and Governance
Social and economic transformations
Culture, cultural heritage and creativity
3. Civil Security for Society
Disater-resilient societies
Protection and Security
Cybersecurity
4. Digital, Industry and Space
Manufacturing technologies
Advanced materials
Next generation internet
Circular industries
Space, including Earth Observation
Emerging enabling technologies
Key digital technologies
including quantum technologies
Artificial Intelligence and robotics
Advanced computing and Big Data
Low-carbon and clean industry
Emerging enabling technologies
5. Climate, Energy and Mobility
Climate science and solutions
Energy systems and grids
Communities and cities
Industrial competitiveness in transport
Smart mobility
Energy supply
Buildings and industrial facilities in energy transition
Clean, safe and accessible transport and mobility
Energy storage
6. Food, Bioeconomy, Natural Resources, Agriculture and Environment
Environmental observation
Agriculture, forestry and rural areas
Circular systems
Food systems
Biodiversity and natural resources
Seas, oceans and inland waters
Bio-based innovation systems in the EU
Bioeconomy
---
Supporting policymakers, both European and national, with independent scientific evidence and support.
Pillar 3
Pillar 3 : Innovative Europe
---
European Innovation Council (EIC)
Focus on market-creating innovation and SME growth. 
EIC Pathfinder supports the exploration of bold ideas for radically new technologies. It welcomes the high-risk / high gain and interdisciplinary cutting-edge science collaborations that underpin technological breakthroughs.
EIC Accelerator supports individual SMEs, in particular Startups and spinout companies to develop and scaleup game-changing innovations.
EIC Transition funds innovation activities that go beyond the experimental proof of principle in laboratory to support the maturation and validation of the novel technology in the lab and in relevant application environments, and the development of a business case and model towards the innovation's future commercialisation.
European Innovation Ecosystems
Connecting with regional and national actors to improve the overall innovation ecosystem across Europe. Ecosystems should become more connected and efficient.
European Institute of Innovation and Technology (EIT)
Focusing on integrating research, higher education, business and entrepreneurship. EIT is an independent EU body that supports entrepreneurial talent and innovative ideas through specific calls for proposals.
Horizontal Actions
Widening Participation and Strengthening the European Research Area
---
Widening Participation and Spreading Excellence
Encouraging teaming & twinning, cooperation in science and technology (COST), ERA chairs continue to bring excellence to institutions in Widening countries with potential for research excellence, support to NCPs, brain circulation and excellence initiatives. It includes two new additions, the Hop On Facility and the Excellence Hubs.
Roforming and enhancing the European R&I system
Building scientific evidence & foresight, continuation of the Horizon Policy Support Facility, promoting Open Science, attractive researcher careers, citizen science, Responsible Research & Innovation, and gender equality.
Budget
BUDGET
---
HORIZON EUROPE – The most ambitious EU Research & Innovation programme ever
An ambitious budget to find solutions to our main challenges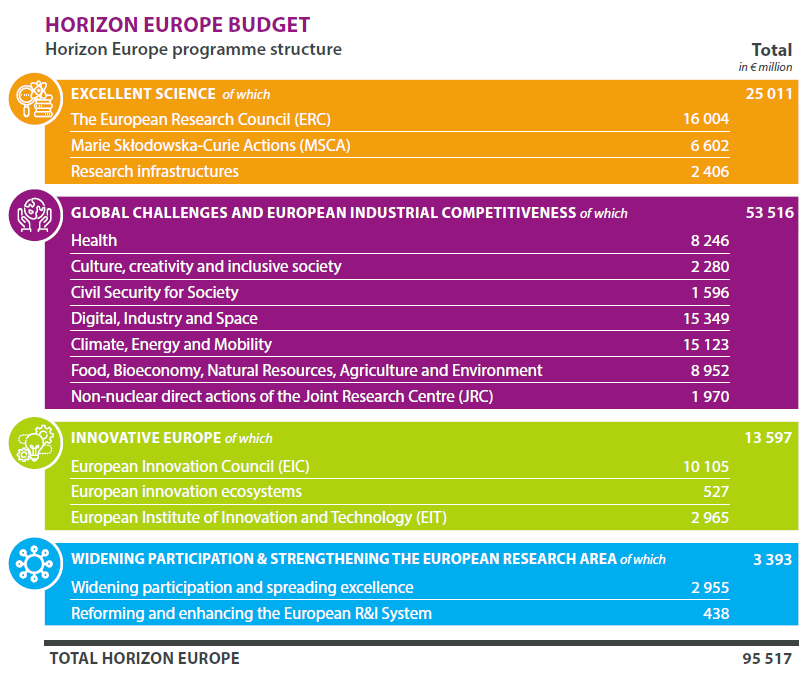 Horizon Europe has a budget of EUR 95.5 billion for the period from 2021-2027. This includes EUR 5.4 billion from the Next Generation EU instrument, particularly to support the green and digital recovery from the COVID crisis.

Horizon Europe is complemented by the Euratom 2021-2025 research and training programme. This programme has a budget of EUR 1.4 billion over the period 2021-2025, bringing the total budget available for both programmes to EUR 96.9 billion.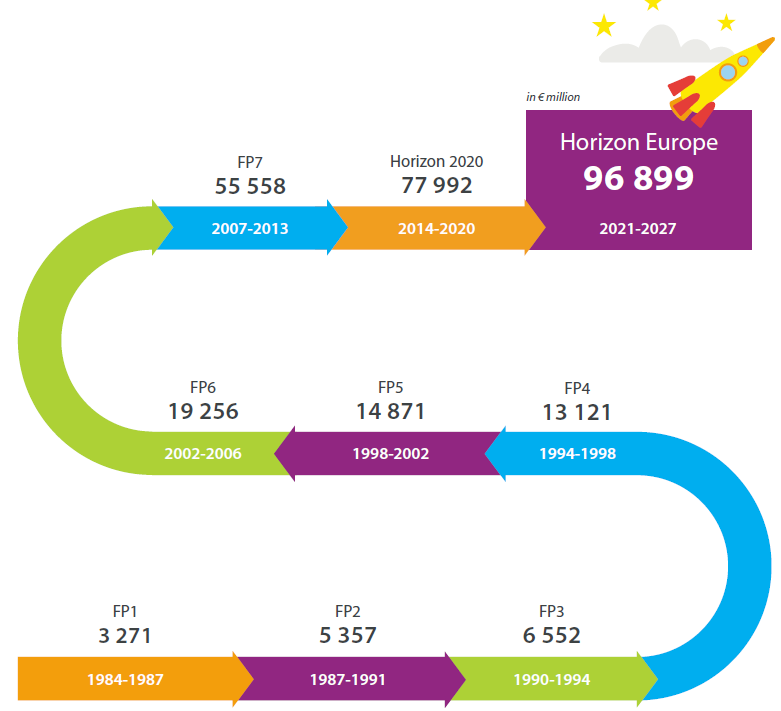 The EU budget has been significantly rising over time from EUR 3,271 million in FP1 to EUR 96,899 million today for Horizon Europe and Euratom. This illustrates the clear ambition of the EU for its main R&I funding instrument and increases relevance of science and technology in society to address our challenges.
---
How will the budget be invested?
The budget will be used to support R&I across the EU and Associated Countries, being paid directly to researchers, innovators and research institutions in the Members States and Associated Countries.
The Horizon Europe Regulation establishes a range of targets with respect to the use of the budget : 
35% of the budget will contribute to climate objectives
there will be a substantial increase of spending in main digital research and innovation activities compared to Horizon 2020.
70% of the budget of the European Innovation Council will be allocated to small and medium size enterprises.
At least 3.3% of the budget will be committed to the programme part widening participation and spreading excellence.
Investments in Space should also be commensurate with those under Horizon 2020
the participation of industry in the actions should be supported at levels at least commensurate with those under Horizon 2020.
The budget should contribute to the overall ambition of providing 7.5% of annual spending under the MFF to biodiversity objectives in 2024 and 10% of annual spending under the MFF to biodiversity objectives in 2026 and 2027.
Work Programme
Horizon Europe work programmes
---
Horizon Europe supports research and innovation especially through work programmes , which set out
funding opportunities for research and innovation activities.
The main work programme

Marie Skłodowska Curie actions

and research infrastructures (Pillar I)

all clusters (Pillar II)

European innovation ecosystems (Pillar III)

Widening Participation and Strengthening the European Research Area part (Horizontal Actions)

Other work programmes 

European Research Council (ERC)
Joint Research Centre (JRC)
European Innovation Council (EIC)
---
Horizon Europe Main Work Programme 2021-2022
Other Work Programmes and Documents
The work programmes for Horizon Europe are available to view and download on the Funding and Tenders Portal.
Strategic Plan 2021-2024
Key Strategic Orientations for Research & Innovation
---
In response to the political priorities and recovery plan of the Union, the following four key strategic orientations for EU research and innovation have been defined for the period 2021-2024 : 
Promoting an open strategic autonomy by leading the development of key digital, enabling and emerging technologies, sectors and value chains to accelerate and steer the digital and green transitions through human-centred technologies and innovations
Impact Areas 
A competitive and secure data-economy
Industrial leadership in key and emerging technologies that work for people
Secure and cybersecure digital technology
High quality digital services for all
Restoring Europe's ecosystems and biodiversity, and managing sustainably natural resources to ensure food security and a clean and healthy environment
Impact Areas 
Enhancing ecosystems and biodiversity on land and in waters
Clean and healthy air, water and soil
Sustainable food systems from farm to fork on land and sea
Making Europe the first digitally enabled circular, climate-neutral and sustainable economy through the transformation of its mobility, energy, construction and production systems
Impact Areas 
Climate change mitigation and adaptation
Affordable and clean energy
Smart and sustainable transport
Circular and clean economy
Creating a more resilient, inclusive and democratic European society, prepared and responsive to threats and disasters, addressing inequalities and providing high-quality health care, and empowering all citizens to act in the green and digital transitions
Impact Areas 
A resilient EU prepared for emerging threats
A secure, open and democratic EU society
Good health and high-quality accessible healthcare
Inclusive growth and new job opportunities
EU Missions
EU Missions : Concrete solutions for our greatest challenges
---
EU Missions are a new way to bring concrete solutions to some of our greatest challenges. They have ambitious goals and will deliver concrete results by 2030. They support Commission priorities, such as the European Green Deal, Europe fit for the Digital Age, Beating Cancer and the New European Bauhaus. 
Each mission will operate as a portfolio of actions – such as research projects, policy measures or even legislative initiatives – to achieve a measurable goal that could not be achieved through individual actions.
The 5 EU Missions
---
1. Adaptation to Climate Change Mission
Support at least 150 European regions and communities to become climate resilient by 2030
2. Cancer Mission
Working with Europe's Beating Cancer Plan to improve the lives of more than 3 million people by 2030 through prevention, cure and solutions to live longer and better
3. Restore our Oceans and Waters Mission
Cleaning marine and fresh waters, restoring degraded ecosystems and habitats, decarbonising the blue economy by 2030 in order to sustainably harness the essential goods and services they provide
4. Climate-Neutral and Smart Cities Mission
Support, promote and showcase 100 European cities in their systemic transformation towards climate neutrality by 2030, and turn these cities into innovation hubs for all cities, benefiting quality of life and sustainability in Europe.
5. Soil Deal for Europe Mission
Caring for Soil is Caring for Life : 100 living labs and lighthouses to lead the transition towards healthy soils by 2030
Countries
Associated Countries
Legal entities from associated countries can participate under equivalent conditions as
legal entities from the EU Member States, unless specific limitations or conditions are
laid down in the work programme and/or call/topic text.
Armenia
Bosnia and Herzegovina
Georgia
Iceland
Israel
Kosovo
Moldova
Montenegro
North Macedonia
Norway
Serbia
Turkey
Thrid Countries covered by the transitional arrangement
Until association agreements start producing legal effects either through provisional
application or their entry into force, the transitional arrangement set out in the General
Annexes to the Horizon Europe Work Programme 2021-2022 is applicable with regard to the following countries and legal entities established in these countries,
with which association negotiations are being processed or where association is
imminent
Albania
Faroe Islands
Morocco
Tunisia
Ukraine
United Kingdom
More informations :
프로그램 지원 가이드

호라이즌 유럽 프로그램 지원 가이드
한-EU 연구협력센터(센터장 조우현)는 유럽연합의 새로운 연구혁신 프로그램인 호라이즌 유럽의 출범을 맞이하여, 한국 연구자의 이해도와 활용도를 높여 프로그램 참여를 촉진하기 위해 관련 가이드를 시리즈로 게시합니다. 센터는 한국과 유럽연합 간 연구협력을 촉진하기 위해 다양한 활동을 기획하고 추진해 나가고 있으며, 연구자들의 관련 문의와 수요를 환영하며 적극적으로 지원해 나갈 계획입니다.