KT, one of South Korea's leading mobile carriers, said Tuesday it is preparing solutions to support the artificial intelligence-driven transformation of ASEAN countries based on its high-tech capabilities.
The company is currently working to build AI-enabled hotels in various Southeast Asian countries including the Philippines, Malaysia, Thailand and Vietnam. It also plans to introduce 5G AI factory and autonomous driving solutions that will facilitate the region's transformation.
KT was the first in the world to commercialize 5G services in April this year, after successfully showcasing the technology during the 2018 PyeongChang Winter Olympics. More recently on Oct. 30, it declared its vision to transform into a 5G-based AI company.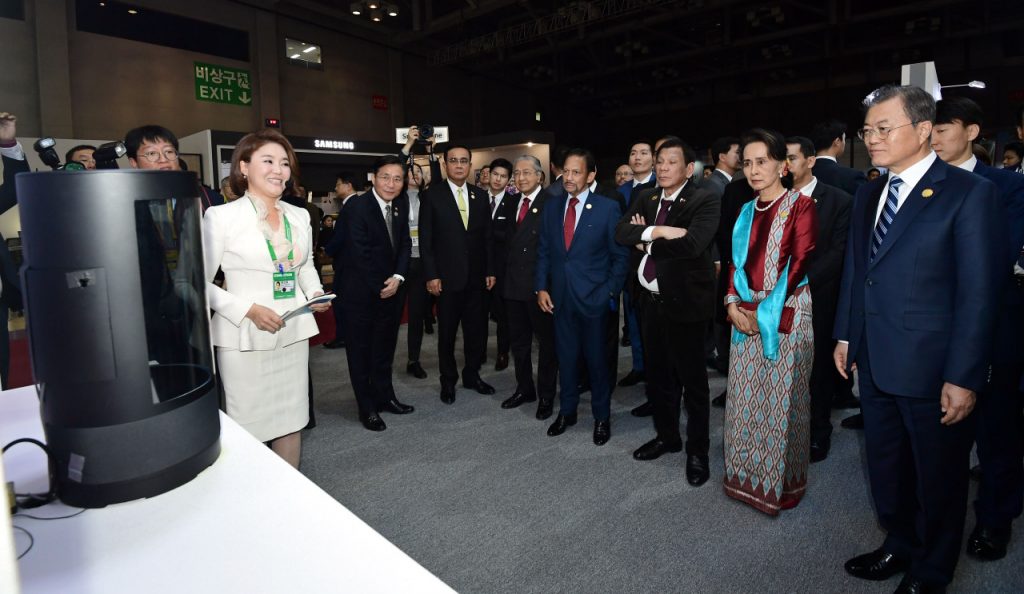 Including South Korean President Moon Jae-in (right), the leaders of ASEAN countries look at GiGA Genie hologram service at KT's booth at BEXCO in Busan on Tuesday.(KT)

During the three-day ASEAN-Republic of Korea Summit in Busan this week, the company showcased its 5G-run manufacturing cloud solutions, smart factory platform and autonomous driving solutions to leaders from ASEAN nations.
At a virtual manufacturing site installed at Bexco, the mobile carrier demonstrated how a worker can remotely control operations of a manufacturing line of a plant located in Gyeongju, North Gyeongsang Province, in real time through its 5G network.
The solution is dubbed Digital Twin as the two different spaces operate in identical moves.
In order to financially enable small and medium-size firms to establish such a system, KT will offer a 5G-based cloud service customized for manufacturers, according to the company.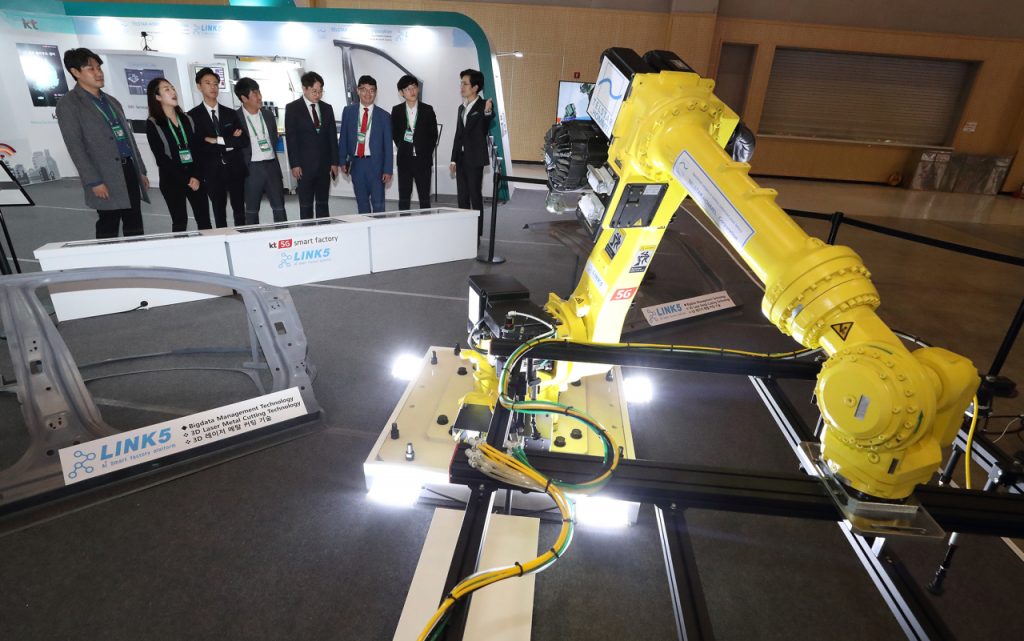 KT showcases its smart factory platform in its booth at Bexco on Monday. (KT)
"The 5G cloud service will help manufacturers reduce the burden of establishing high-spec servers, managing immense data from factories and adopting analytical solutions," a company official said.
KT also boasted its collaborative robot Cobot and smart factory platform Factory Makers. Connected with the 5G network, Cobot operates as it receives data from the Factory Makers. The factory platform is designed to not only collect manufacturing data on a real-time basis, but also monitors the manufacturing process 24/7, according to KT.
The platform will be further developed with higher-level AI and big data technologies to make it possible to detect bottlenecks in the process or defects in products, the firm said.
"KT will contribute to expanding smart factories across the Asian region with its outstanding 5G and AI technologies," said KT Vice President Lee Yong-gyu.
In collaboration with Hyundai Rotem, the company also showcased its autonomous driving solution.
The two companies, for the first time, demonstrated autonomous driving of HR-Sherpa -- an unmanned vehicle for industrial purposes like logistics, patrolling and remote control of construction sites -- at an outdoor square of Bexco. Connected to the KT 5G network, the vehicle completed various tasks as it was remotely controlled.
"Showcasing our autonomous driving technology was very meaningful considering that the ASEAN leaders highly recognized KT's 5G technology and network operation capabilities," said another official.
KT officially launched the world's first nationwide commercial 5G wireless network in Korea in April, ushering in a new era of superfast, low-latency and ultrareliable connectivity for consumers and businesses.
The mobile carrier launched its business-to-business 5G network service in December 2018 and business-to-consumer network in April.
Under Chairman Hwan Chang-gyu, KT has made pioneering efforts to move forward the commercialization of 5G.
Hwang first envisioned the world's first and best commercial 5G network at the MWC 2017.
"KT is helping the leaders of ASEAN countries better understand 5G technologies and network management know-how," a PR manager said.
Last month, Manuel V. Pangilinan, CEO of PLDT, the largest mobile carrier in the Philippines, visited KT's exhibition center FUTURE-IN to learn about 5G.
Amid the enhancing ties between Korea and ASEAN countries, KT plans to seek more aggressive expansion in the region.
In October, the company signed a contract with Hong Kong-based hotel IPTV service provider MVI to provide its AI hotel platform Genie Cube.
MVI provides its service for hotels in 18 Asian and Middle East countries.
KT's AI platform GiGA Genie will be incorporated in hotels in the Philippines first and then expand to other ASEAN countries like Malaysia, Thailand and Vietnam. 
By Song Su-hyun (song@heraldcorp.com)
SOURCE : THE KOREA HERALD