---
KAIST breaks new grounds in positioning technology with an AI-integrated GPS board that works both indoors and out
---
KAIST (President Kwang Hyung Lee) announced on the 8th that Professor Dong-Soo Han's research team (Intelligent Service Integration Lab) from the School of Computing has developed a GPS system that works both indoors and outdoors with quality precision regardless of the environment.
This Indoor/Outdoor-Integrated GPS System, or IOI GPS System, for short, uses the GPS signals outdoors and estimates locations indoors using signals from multiple sources like an inertial sensor, pressure sensors, geomagnetic sensors, and light sensors. To this end, the research team developed techniques to detect environmental changes such as entering a building, and methods to detect entrances, ground floors, stairs, elevators and levels of buildings by utilizing artificial intelligence techniques. Various landmark detecting techniques were also incorporated with pedestrian dead reckoning (PDR), a navigation tool for pedestrians, to devise the so-called "Sensor-Fusion Positioning Algorithm".
To date, it was common to estimate locations based on wireless LAN signals or base station signals in a space where the GPS signal could not reach. However, the IOI GPS enables positioning even in buildings without signals nor indoor maps.
The algorithm developed by the research team can provide accurate floor information within a building where even big tech companies like Google and Apple's positioning services do not provide. Unlike other positioning methods that rely on visual data, geomagnetic positioning techniques, or wireless LAN, this system also has the advantage of not requiring any prior preparation. In other words, the foundation to enable the usage of a universal GPS system that works both indoors and outdoors anywhere in the world is now ready.
The research team also produced a circuit board for the purpose of operating the IOI GPS System, mounted with chips to receive and process GPS, Wi-Fi, and Bluetooth signals, along with an inertial sensor, a barometer, a magnetometer, and a light sensor. The sensor-fusion positioning algorithm the lab has developed is also incorporated in the board.
When the accuracy of the IOI GPS board was tested in the N1 building of KAIST's main campus in Daejeon, it achieved an accuracy of about 95% in floor estimation and an accuracy of about 3 to 6 meters in distance estimation. As for the indoor/outdoor transition, the navigational mode change was completed in about 0.3 seconds. When it was combined with the PDR technique, the estimation accuracy improved further down to a scope of one meter.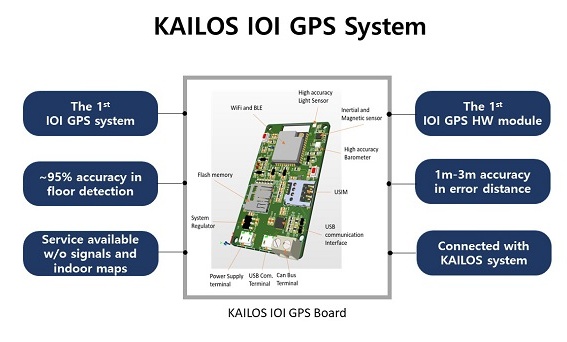 The research team is now working on assembling a tag with a built-in positioning board and applying it to location-based docent services for visitors at museums, science centers, and art galleries. The IOI GPS tag can be used for the purpose of tracking children and/or the elderly, and it can also be used to locate people or rescue workers lost in disaster-ridden or hazardous sites. On a different note, the sensor-fusion positioning algorithm and positioning board for vehicles are also under development for the tracking of vehicles entering indoor areas like underground parking lots.
When the IOI GPS board for vehicles is manufactured, the research team will work to collaborate with car manufacturers and car rental companies, and will also develop a sensor-fusion positioning algorithm for smartphones. Telecommunication companies seeking to diversify their programs in the field of location-based services will also be interested in the use the IOI GPS.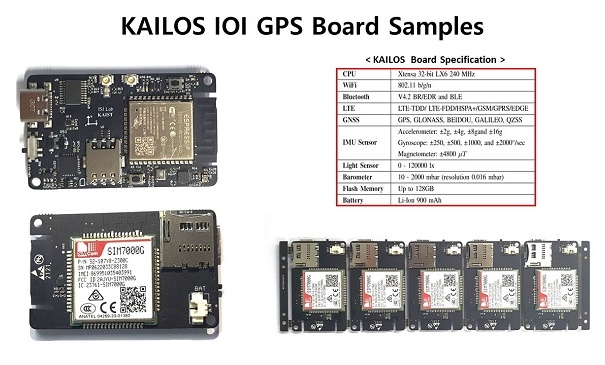 Professor Dong-Soo Han of the School of Computing, who leads the research team, said, "This is the first time to develop an indoor/outdoor integrated GPS system that can pinpoint locations in a building where there is no wireless signal or an indoor map, and there are an infinite number of areas it can be applied to. When the integration with the Korea Augmentation Satellite System (KASS) and the Korean GPS (KPS) System that began this year, is finally completed, Korea can become the leader in the field of GPS both indoors and outdoors, and we also have plans to manufacture semi-conductor chips for the IOI GPS System to keep the tech-gap between Korea and the followers."
He added, "The guidance services at science centers, museums, and art galleries that uses IOI GPS tags can provide a set of data that would be very helpful for analyzing the visitors' viewing traces. It is an essential piece of information required when the time comes to decide when to organize the next exhibit. We will be working on having it applied to the National Science Museum, first."
The projects to develop the IOI GPS system and the trace analysis system for science centers were supported through Science, Culture, Exhibits and Services Capability Enhancement Program of the Ministry of Science and ICT.