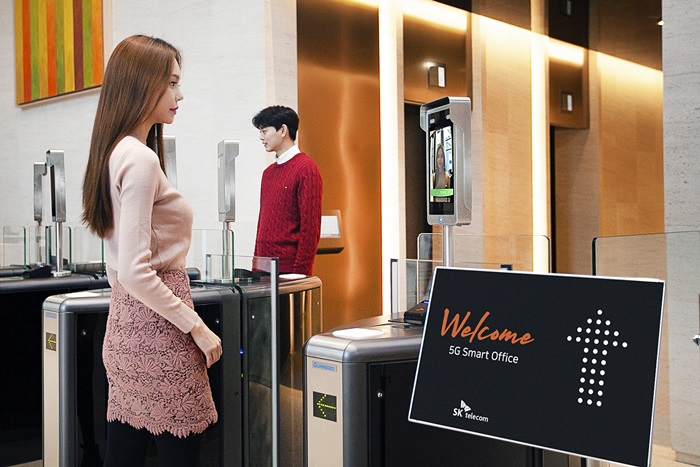 At 8:30 a.m., an office worker reserves a seat at her office through her smartphone. She chooses to sit apart from others to finish a project proposal. Arriving at the office, she needs no ID card to get in because of a facial recognition system that controls entry.
At 9 a.m., she sits in her reserved seat and connects her smartphone to a docking pad. The project proposal she was on working last night comes up on the monitor.
At 2 p.m., she orders a coffee using a robot barista at a cafeteria with her smartphone, which sends out an alert when the coffee is ready. She picks it up by entering a personal identification number.
At 4 p.m., she holds a virtual meeting with a coworker on a business trip in Paris using augmented reality (AR) glasses. They exchange ideas on the project proposal.

These are scenes Korea.net observed on Feb. 24 in a demonstration of a 5G smart office hosted by one of Korea's top telecom companies. In December last year, the country became the world's first to launch 5G service and achieved another global first in March this year by commercializing 5G for smartphones.
Cameras and large screens were installed around each gate in the lobby. Artificial intelligence (AI) cameras recognized employee faces based on 3,000 characteristics such as skin tone, face shape and hair, so they could enter without ID cards or fingerprint recognition. Intelligent surveillance cameras also controlled the office door.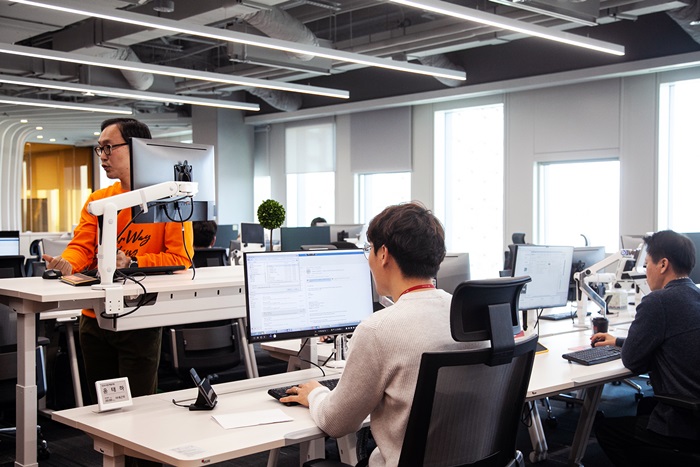 At the office, all laptops and PCs were replaced with smartphone docking pads. Staff could bring up data saved in cloud servers by plugging their smartphones into docking systems under a system called virtual desktop infrastructure (VDI). This technology hosts a virtualized desktop on a centralized server that allows data to be stored and later brought up on a user's desktop. Thanks to the incredibly high speed of 5G, 300 employees can simultaneously use the system without disconnection or delay.
The office had about 2,400 internet of things sensors, collecting bulk data through 5G in real time. They were installed in task force rooms, bathrooms, parking lots and even on the doorknobs of meeting rooms to check the usage of space or electricity. All data from the office were analyzed to provide the best working environment.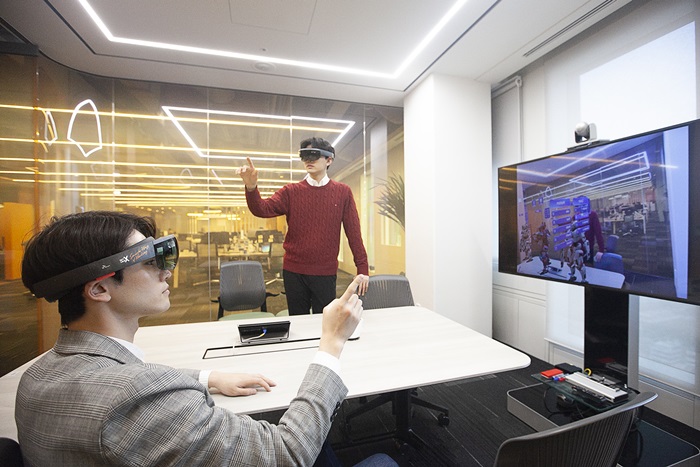 An Soyeon, a manager at Smart Work CoE who works in a smart office, said, "The biggest difference is that I can choose where and how to work. The combination of AI and 5G has greatly boosted work efficiency."
The wider application of 5G is expected to greatly boost efficiency and productivity at smart homes, factories and farms thanks to the mobile technology's blazing speed, massive bandwidth and super low latency.
SOURCE: KOREA.NET